It is obvious that the kitchen is the area in the house used most by women, so a wide kitchen is a dream of every house. However, it is not everyone who can afford a house with enough space to set a large kitchen, especially in current situation, population explosion make it more difficult than ever. As a result, it is necessary for every people to know "smart design", so that you can take use of the space and make it more convenient and more scientific.
Design the kitchen according the letter "I"
For a small kitchen, this design is one of the most perfect choices. It means that the kitchen cabinet, desk and furniture are organized on a plane. This arrangement is not only simple but also convenient, which makes housewives easy to go around and cook without obstructions. Currently, in the market, there are various types of cabinet that are designed according the letter "I" in good quality, so that you can easily choose the most suitable one for your kitchen.
Rearrange your dishes based on its function.
Putting dishes disorderly will cause your kitchen to be cluttered and waste your space. Therefore, you should arrange them based on how often you use them. Kitchenware that is usually used should be put near the position you stand when cooking. For example, a cupboard is the best place for dishes. Instead of cluttering them on the table, you should order them in a large cupboard enough for all. Beside, your every meal set should be at eye level; meanwhile dishes for especial occasion can be stored up higher out of your sight. This can help you save time when preparing meal because you do not have to rummage your kitchen to search what you want. Let's make everything has a dedicated place and orderly.
Utilize your wall in the kitchen
Because of limited space, utilizing wall space is a wonderful design. It can be that hanging up what you can. For instance, you can hang pots, pans or even a cupboard on the wall instead of lay it on the floor, so that you can save space for other things like table or refrigerator. Or your kitchen has a huge window, you can take advantage of it to cut rebar to the same size as the window and make it as a place to hang some things such as lids, spatula. It was the perfect space solution because your kitchen can absorb lights from outside while you still have space for other things. However, you should also remember to hang them in an orderly way to avoid making everything mess up.
Utilize the space under the cabinet.
Most families tend to ignore this useful space. It is not large but not small, so let it become a lost space is so pity. You absolutely use this to arrange things like microwave or install lighting for the whole kitchen or waste basket to get more space to work.
Arrange spoons and chopsticks carefully.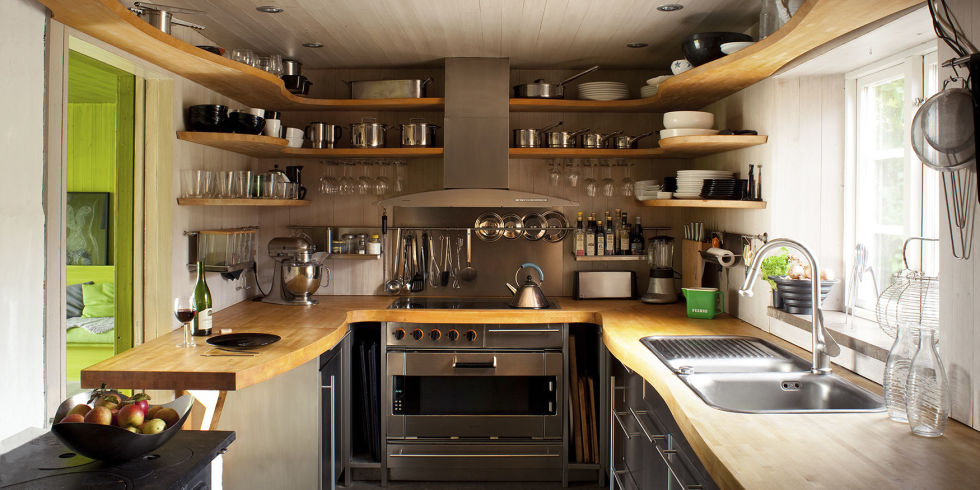 Small tools like spoons, chopsticks, scissors or knives are necessary things in the kitchen of every house. However, if you have no method to organize them appropriately, they will be untidy and difficult to find when you need. They should not be stuffed into a tube. It is better to classify them according their size and their function like small spoons in a tube, big ones in another tube and chopsticks in another one.
Choose the suitable color for wall as well as other furniture.
Material and colors of wooden wall, floor and kitchen-self are very important in deciding the space of the kitchen. This is also characteristic make your kitchen more attractive. In terms of storages on the wall, they should be painted bright colors. This helps the room brighter and wider.
Ensure to provide enough light for the kitchen
A large amount of light widens any rooms. You maybe have no choice in the quantity and the position of window, but you can maximize lights from outside by minimize decoration accessories. Besides, windows should be made by glass which can not only ensure your privacy but also not prevent lights shining through.
A kitchen is the room which contributes to the beauty of the house. Hence, organizing it is a job requiring you to spend time to consider. A scientific designing of scientific furniture, cabinet lead your kitchen absorb natural lights so as to improve the space. This is also a "secret" making the kitchen more fresh and cool and saving energy. Especially, with a small kitchen, suitable organization is more significant, so let's think carefully to arrange your kitchen to take advantage of its space